Our wood scent articles have Hardwood ends and Hardwood bars.
Oak ends with Oak bars is available.
The wood is protected with a clear sealant.
The available end sizes are 2 inches, 2-1/2 inches, 2-7/8 inches, and 3 inches. Available dowel diameters are 1/2 inch, 5/8 inch, and 3/4 of a inch. Most bar lengths are available.
The numbers are engraved into the wood and the color can be changed or refreshed with a Sharpie Permanent Marker.
The price is $130 plus $15 shipping for a set of 6 articles. Numbers 0, 7, and 8 are also available. When purchasing a set which contains other than numbers 1-6, please contact me first.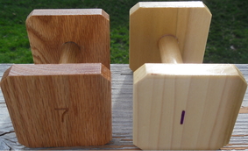 Solid Oak Article on left, Solid Poplar on Right